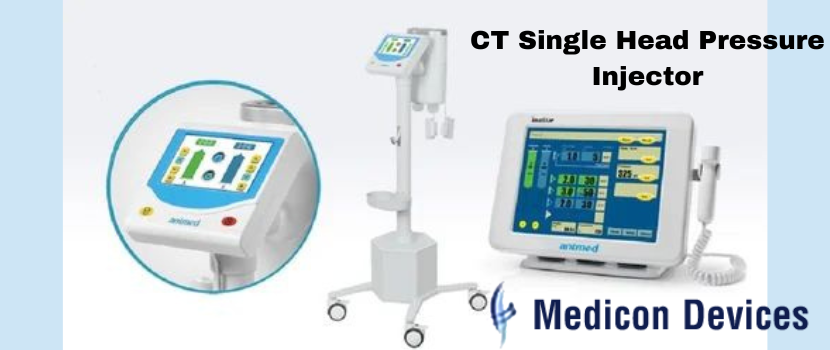 The watertight injector head on the CT Single Head Pressure Injector reduces damage from contrast/saline leaks and ensures secure clinical operation. An intuitive user interface, colour touch screens, automatic plunger push and pull when snapping the syringe on, and auto-detect function are further characteristics.
Earlier the use of intravenous contrast media was required for many computed tomography (CT) tests to make certain organs, blood arteries, or other tissue types stand out from neighbouring structures. CT scanners used "step and shoot" technology and required lengthy scan periods up to the early 1990s.
For a patient who is very out of breath and has been asked to hold their breath for 50 individual scans, it would take around 5 minutes to scan the chest, abdomen, and pelvis of an average patient with 10mm sections at 15mm centres. The radiologist performing the scan administered the initial dose of contrast by manually injecting 100 ml of contrast medium.
With the contrast in the ideal circulatory phase, only a small number of images could be obtained, and there were issues with the consistency of timing and flow rates, which were very operator dependent.
Modern Technology Reduces Time
Slip ring technology, which was introduced, made it possible to acquire a scan as a single volume of data (using spiral or helical scanners), cutting scan times to roughly 20 seconds per body area.
Nowadays, multi-detector row scanners only take a few seconds for each body region to be scanned. Nowadays, a lot of CT protocols demand multiphase scans, which involve employing a single contrast bolus to photograph a single body location at several stages of the circulatory cycle.
The flow rate, volume, and timing of the injection must all be tightly controlled using new power injectors. The use of a saline bolus after the contrast has been found to have benefits in recent advancements in cardiac and angiographic CT, lowering the amount of contrast needed. CT Single Head Pressure Injectors are currently available from many manufacturers.
Characteristics of CT Single Head Pressure Injector
The characteristics are:
● When snapping the syringe on, an automatic plunger pushes and pulls.
● User operation trust is ensured by an intuitive user interface and a clear and crisp information display.
● The waterproof injector head design reduces damage from contrast/saline leaks and guarantees clinic operations are conducted safely.
● Bluetooth connectivity
● Separate processes for expelling and arming ensure the safety of injection.
● Warms the contrast and saline to maintain at the appropriate temperature, decreasing the negative effects on the patient.
● Reduce patient risk by displaying a real-time pressure curve and tracking pressure fluctuations.
Power Injector Safety Considerations
There are two key safety concerns since injections are frequently remotely initiated by the operator in the CT control room.
The first entails injecting air into a vein, which could result in an air embolism in the pulmonary arteries or the cerebral circulation, which could result in a stroke. If the connecting line is not purged, there may be a few millilitres of air present, or there may be up to 100 millilitres of air if an empty syringe is accidentally used.
The second can result in damage owing to toxicity when the contrast extravasation into the surrounding tissues. This is frequently excruciatingly painful and may cause tissue breakdown.